Lineup set for "Salsa in the Square" as Team USA Wrestlers To Face Cuba In Times Square In New York City May 21 Alongside Beat the Streets Gala
Team USA will feature Olympic champion Jordan Burroughs, Olympic medalists Clarissa Chun and Randi Miller and World medalists Tervel Dlagnev, Helen Maroulis, Andy Bisek and Jake Herbert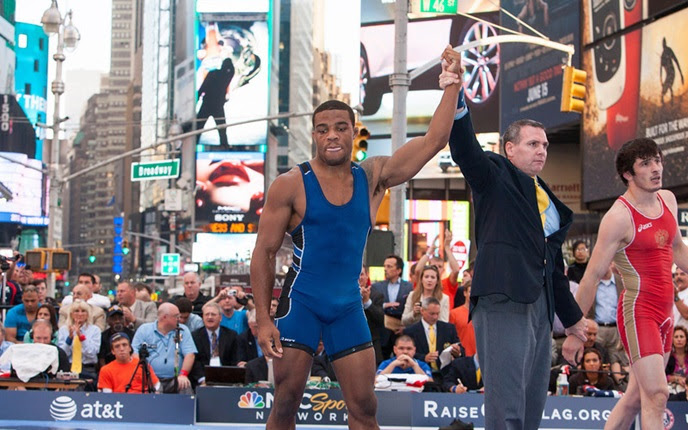 (Courtesy of Jerry Milan) NEW YORK, May 13, 2015 – Beat the Streets Wrestling, Inc. and USA Wrestling today announced the U.S. lineup and the match pairings for the "Salsa in the Square," as top competitors for Team USA and the Cuban National Team will compete in a dual meet featuring all three Olympic wrestling styles.
The USA vs. Cuba Dual meet will be held in historic Times Square on Thursday, May 21, this time back in the Duffy Square location at 46th Street in Manhattan. It is one of the most impressive and iconic settings in the history of Olympic wrestling.
This will be the first time that a dual meet between a U.S. team and a Cuban team in an Olympic sport will take place in the United States since the historic change in USA and Cuban political relations earlier this year. It is also the first time that a Cuban wrestling team will compete in New York City in a dozen years, since the successful 2003 World Freestyle Wrestling Championships were held at Madison Square Garden.
The American team announced today is loaded with talent. Included on the U.S. roster is 2012 Olympic champion and two-time World champion Jordan Burroughs at 74 kg in men's freestyle.
A pair of Olympic medalists will compete in women's freestyle, 2012 Olympic bronze medalist Clarissa Chun at 48 kg and 2008 Olympic medalist Randi Miller at 69 kg. Chun was also a World champion in 2012.
The U.S. team also includes a pair of two-time World medalists, Tervel Dlagnev at 125 kg in men's freestyle and Helen Maroulis at 55 kg in women's freestyle. Dlagnev won World bronze medals in 2009 and 2014. Maroulis was a World silver medalist in 2012 and a World bronze medalist in 2014.
Other World medalists on the American roster include Andy Bisek at 74 kg in Greco-Roman and Jake Herbert at 84 kg in men's freestyle.
Four of the athletes on Team USA have won the Dan Hodge Trophy as the nation's top college wrestler: Jordan Burroughs, Jake Herbert, Brent Metcalf at 66 kg and David Taylor at 74 kg. Taylor won the Hodge Trophy twice.
Combined, the USA team accounts for a combined 17 NCAA titles, including two-time champions Brent Metcalf (Iowa), David Taylor (Penn State), Jordan Burroughs (Nebraska), Jake Herbert (Northwestern) and Tervel Dlagnev (Nebraska-Kearney), along with NCAA champion Tony Ramos (Iowa).
Among the NCAA champions in the event are two top current stars. There is a special challenge match between the reigning NCAA Div. I national champion Alex Dieringer of Oklahoma State and reigning NCAA Div. II national champion Joey Davis of Notre Dame College. Dieringer is a two-time NCAA champion. Davis is a three-time NCAA champion, and has not yet lost a college wrestling match.
The event also features a four-time WCWA women's college national champion, Helen Maroulis, who won her titles for Simon Fraser (3x) and Missouri Baptist (1x).
One of the women's matches will feature a New York City native and a product of the Beat the Streets program, who is currently a star on the college level, Rosemary Flores at 60 kg. Flores competed for Curtis High School on Staten Island, and wrestled in Times Square during the Beat the Streets youth matches while she was in high school. She attends Campbellsville University, where she is a two-time All-American, placing third in the 2014 WCWA Women's College Nationals and fourth in the 2015 WCWA Nationals.
The U.S. lineup features nine athletes who won 2015 U.S. Open national titles in Las Vegas this past weekend: Ramos, Metcalf, Taylor, Herbert, Dlagnev and Maroulis, plus Greco-Roman champions Spenser Mango at 59 kg and Andy Bisek at 75 kg, plus freestyle champion Kyle Snyder at 97 kg.
The  has announced its lineup of stars last week. The Cuban team features four past medalists in men's freestyle: 2012 Olympic bronze medalist and three-time World medalist Livan Lopez Azcuy at 74 kg in men's freestyle, three-time World medalist Reineris Salas Perez at 86 kg, plus 2014 World bronze medalist Yowlys Bonne Rodriguez at 57 kg and Javier Cortina Lacerra at 97 kg. The women's freestyle and Greco-Roman athletes are a mix of veteran stars and exciting young talents. Combined, the team has won 11 Pan American individual gold medals and four Junior World medals.
USA Wrestling will be publishing detailed previews of each of the USA vs. Cuba matchups, including in depth biographies, on its website TheMat.com in the upcoming week.
Top Beat the Streets middle school and high school students will take the mat showcasing their skills in exhibition matches beginning at 3:45 pm to start the evening. The Beat the Streets youth match pairings will also be announced shortly.
The USA vs. the World dual requires a ticket for reserved seating in Times Square, but is an outdoor event. Pedestrians and non-ticket holders are encouraged to watch. Admission tickets may be bought in advance at www.btsny.org or 212.245.6570. A ticket is required for the Gala. More details are available at http://www.btsny.org/gala
The Gala Celebration will follow the wrestling competition at Best Buy Theater. This unique and electrifying annual event helps Beat the Streets (BTS) raise significant funds to further its mission. Whether it's providing a safe, constructive outlet for our urban youth, fighting childhood obesity, empowering women, or uniting entire nations, wrestling teaches persistence, dedication, and the value of working hard to achieve one's goals, creates opportunities for personal and universal growth.  BTS currently serve over 3,000 student-athletes every year.
Overall, this unique and electrifying annual event helps raise significant funds to further BTS' mission to develop the full human and athletic potential of the urban youth and the strengthen the culture of New York City wrestling.
The event will be broadcast on two national television networks. Universal Sports Network will air a same-day 90-minute show on Thursday, May 22 at 12:30 a.m. Eastern Time. NBC Sports Network will broadcast its 90-minute show on Wednesday, May 27 at 5:00 p.m. Eastern Time. All of the matches from Times Square will also be webcast live by Flosports.
The world-class competition has been hosted in Times Square three previous times. In 2011, the United States defeated World champion Russia, 5-2, the first sports event ever held in historic Times Square. In 2012, another U.S. vs. Russia dual meet was held in Times Square, along with the U.S. Olympic Team Wrestle-off for the 60 kg/132 lbs. position on the U.S. Olympic Team in men's freestyle. In 2014, the USA defeated a World All-Star Team in Times Square, 8-3.
This will be the sixth straight year in which a major international-style wrestling competition will be hosted as part of the Beat the Streets Gala activities. In 2010, an all-star challenge featuring top U.S. wrestlers was held on the USS Intrepid, an aircraft carrier docked on the west side of Manhattan. In 2013, the event was hosted in historic Grand Central Terminal. Dubbed "The Rumble on the Rails," it featured dual meets between Team USA, Russia and Iran and was an important part of the international Keep Olympic Wrestling effort, which resulted in wrestling retaining its status on the Olympic Games program.
SALSA IN THE SQUARE, USA VS. CUBA DUAL PAIRINGS
Men's freestyle
57 kg/125.5 lbs. – Tony Ramos (USA) vs. Yowlys Bonne Rodriguez (Cuba)
65 kg/143 lbs. – Brent Metcalf (USA) vs. Franklin Maren Castillo (Cuba)
74 kg/163 lbs. – Jordan Burroughs (USA) vs. Luis Esteban Quintana Martinez (Cuba)
74 kg/163 lbs. – David Taylor (USA) vs. Livan Lopez Azcuy (Cuba)
86 kg/189 lbs. – Jake Herbert (USA) vs. Reineris Salas Perez (Cuba)
97 kg/213 lbs. – Kyle Snyder (USA) vs. Javier Cortina Lacerra (Cuba)
125 kg/275 lbs. – Tervel Dlagnev (USA) vs. Andres Ramos Dinza (Cuba)
Women's freestyle
48 kg/105.5 lbs. – Clarissa Chun (USA) vs. Yusneylis Guzman Lopez (Cuba)
55 kg/121 lbs. – Helen Maroulis (USA) vs. Yamilka del Valle Alvarez (Cuba)
60 kg/132 lbs. – Rosemary Flores (USA) vs. Yekelin Stornell Elastigue (Cuba)
69 kg/152 lbs. – Randi Miller (USA) vs. Yudari Sanchez Rodriguez (Cuba)
Greco-Roman
59 kg/130 lbs. – Spenser Mango (USA) vs. Maykel Anache Lamout (Cuba)
75 kg/165 lbs. – Andy Bisek (USA) vs. Yurisandi Hernandez Rios (Cuba)
Special Challenge Match
NCAA Div. I champion Alex Dieringer (Oklahoma State) vs. NCAA Div. II champion Joey Davis (Notre Dame College)
"Salsa In The Square," Beat The Streets Wrestling Schedule
At New York, May 21, 2015
3:45 p.m. – Beat the Streets Exhibition Matches in Duffy Square at 46th Street
5:45 p.m. – World Class Wrestling: Team USA vs. Team Cuba at 46th Street
7:30 p.m. – Gala Celebration at Best Buy Theater at 1515 Broadway
About Beat The Streets:
The mission of Beat the Streets is to develop the full human and athletic potential of the urban youth and to strengthen the culture of New York City wrestling. BTSW works directly with the New York City Department of Education in a public-private partnership to help New York City's student-athletes achieve their personal and athletic goals. Through the operation of wrestling programs in middle and high schools in the five boroughs, BTSW and the DOE provide a safe, positive atmosphere in which disadvantaged and at-risk youth can learn the essential life skills of physical fitness, teamwork, and self-empowerment. The goal of fostering strong, dedicated, and optimistic kids is delivered through coaching, after-school programs, and mentoring. More information can be found at www.btsny.org.
About USA Wrestling:
USA Wrestling is the National Governing Body for the Sport of Wrestling in the United States and, as such, is its representative to the United States Olympic Committee and United World Wrestling, the international wrestling federation. Simply, USA Wrestling is the central organization that coordinates amateur wrestling programs in the nation and works to create interest and participation in these programs. It has over 220,000 members across the nation, boys and girls, men and women of all ages, representing all levels of the sport. Its president is James Ravannack, and its Executive Director is Rich Bender. More information can be found at TheMat.com